Event Calendar:
Virtual/Zoom - Anxiety and Post-Traumatic Stress - Healing Invisible Wounds, with Aaron & Sue Singleton
Description:
Without ever leaving your recliner or bed, you can benefit from this Medical Intuitive REMOTE Healing from Sue and Aaron Singleton.

Join us on Zoom for a 1.5-hour group healing to release anxiety and Post-Traumatic Stress (PTSD).

PTSD is widely discussed regarding war, accidents and violent crimes, yet the effects in brain hard-wiring and body cellular memory can result from seemingly milder incidents.

Sue and Aaron Singleton share insights into PTS from past lives, the womb, birth, and throughout our lives which may not be considered in typical evaluation and treatment.

We have all been exposed to events with the potential to produce PTS: child abuse, the death of family/friends/pets, bullying, physical/emotional abuse, and most recently the media coverage of traumatic world events, all may create mild to severe PTS responses.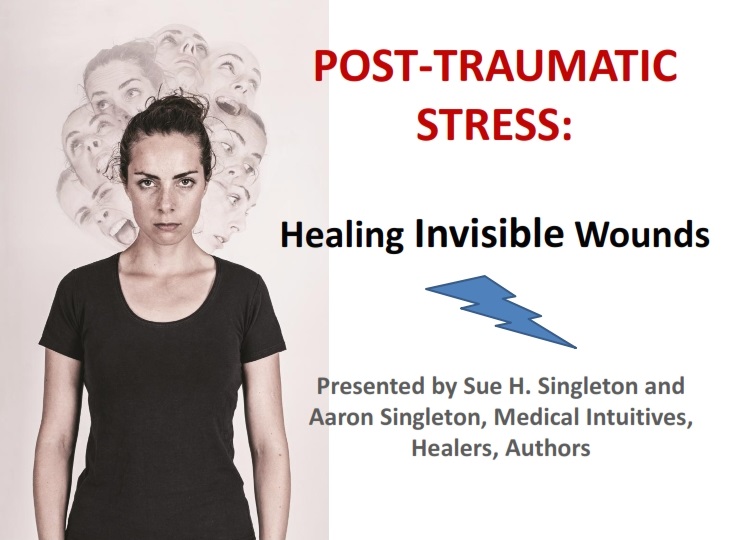 CLICK HERE TO REGISTER TO PARTICIPATE LIVE VIA ZOOM
This Medical Intuitive Group Healing will be conducted LIVE via the Zoom web-conferencing website and app! You do not need to have a Zoom membership yourself to participate - all you need to do is register via the link below, and you will receive an email with a link to join the video conference. You can join the video conference via any computer, tablet or smart phone device. If you'd like to learn more about joining a meeting in Zoom, click here to watch a helpful how-to video.
If you'd rather not participate via video, you can still receive this healing! Use the button below to register to participate remotely, with
no video conference
:
Your
PETS are spiritual and intuitive healers
and may also benefit from this REMOTE healing! To sign-up a PET, use the button below:
Date:
Sun. Sep 13, 2020
Time:
10:45 am - 12:15 pm
Location:
Virtual - Available EVERYWHERE on the Zoom Webinar Platform
Cost:
29.00